Bathroom Remodel Springfield MO | Bath Remodeling Contractor
Services We Offer:
Bathroom Repair
Bathroom Renovation
Shower Remodel
Bathroom Makeover
Kitchen Remodel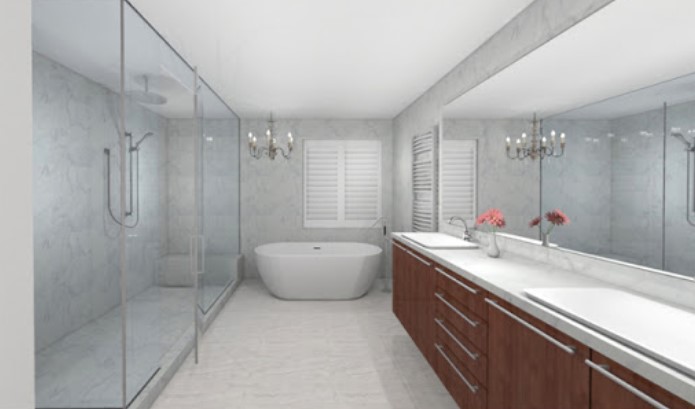 We specialize in bathroom remodeling in Springfield and surrounding areas. Full-service re-modeler providing complete remodels, upgrades, plumbing, and repairs, we do it all! A custom bathroom can easily become your own private oasis. A personal spa with all the amenities, or maybe a luxurious guest restroom filled with tranquility. You should never have to compromise when it comes to comfort and for good reason. When done right your bathroom will be a place you go to unwind and free yourself from the many stresses your day may bring. Remove outdated fixtures and treat yourself to that Jacuzzi tub you've always wanted. Call today for the bathroom makeover of your dreams.
Bathroom Remodel Springfield MO specializes in handicap-able bathroom renovations which require a highly advanced leveling technique to ensure stability.
Wherever inspiration takes you, let us bring your vision to life. With over 20 years of experience in bathroom remodeling in Springfield and the surrounding areas, we can have you relaxing in the master bathroom of your dreams sooner than you think. Unsure of what style you like? Feel free to call and ask us.
Bathroom Remodeling: Where To Start?
We can not stress enough the importance of hiring a licensed professional. Countless times have we been called upon to redo the work of "contractors" who left homeowners with leaking roofs, cracked foundation, and plenty more remodeling blunders. Aside from the obvious dip into your wallet these things can drastically shorten the life expectancy of any renovations you have done to your property.
Hiring a licensed contractor will ensure the work is being done according to your city-specific building codes. Regardless of the type of bathroom remodel you are considering to undertake it is best to consult with an expert bathroom remodeler in Springfield MO.
How Much Does A Bathroom Remodel Cost?
Every remodel differs from the next. Prices vary depending on a few major things. Structural changes can guarantee a fluctuation in cost due to architectural plans and plan check fees from the city. Wall removals can be costly at times if any electrical or plumbing needs to be redone. The biggest expenses in a bathroom remodel come from the countertop & cabinets. Of course, each offers a wide range of materials to choose from that can either drastically increase or decrease your budget. Tile and flooring can become big-ticket items depending on your style choices. In the end, what it comes down to is the choice of materials and scope of work. A partial remodel can run anywhere from 5-10k whereas a complete bathroom remodel can be anywhere from 12k and up.
How Long Does A Bathroom Remodel Take?
Typically a bathroom remodel can take anywhere from 12-21 days depending on how extensive the work is. Keep in mind that half this time is hours spent off-site cutting measurements for counter materials fabricating cabinets etc. we are able to beat the going average of our competition and complete a bathroom remodel in 12 days because we use all in-house contractors so you will never need to deal with third-party delays.
Structural changes can sometimes double this time because it involves getting plans approved by the city, plan to check submissions, corrections, and proper permitting. If your layout remains the same then we can guarantee a new bathroom in 12 days. Partial vs Complete: a complete bathroom gut-out will always mean a longer timeline where a partial remodel consisting of maybe just cabinet refacing, flooring, and tile can be done within two weeks.
Springfield Bathroom Remodeling Service Areas
Let's talk about Springfield Bathroom Remodel Services in Springfield, MO. These are the primary locations that we can provide professional Bathroom Renovations & Makeovers services in Springfield. Our service locations include:
Fremont Hills.
Battlefield
Nixa
Ozark
Willard
Republic
Bolivar
Rogersville
Why Should You Choose Us?
Bathroom Remodel Springfield MO is the one stop shop for all your bathroom renovation and remodel needs. Our team of bathroom experts is here to help with everything you may need, including with 3D models of your new bathroom. We have the best remodelers in Springfield, MO and we are proud to have provided top notch customer service to over 8,000 homeowners and business owners in the city. In addition, we are one of the few companies who can legally add a new bathroom to your home or office. We have an in-house engineer and an in-house architect. Moreover, all our experts are licensed and certified.
8,000+ Bathrooms Renovated or Remodeled
Over the years, we have worked on over 8,000 bathrooms. All our remodeling and renovation jobs were completed on time and were praised by the client.
3D Bathroom Modeling Services
Bathroom Remodel Springfield MO can help you visualize the end result. We will create a 3D model of your bathroom so you can take the best decisions when it comes to materials and facilities.
Unbeatable Warranty
We stand behind our product and services, so we offer comprehensive warranties to all our clients. Rest assured that we have your back in case something happens.
Bathroom Remodelling in Springfield Missouri
What's Involved
Bathrooms are some of the busiest spaces in your home so they need to be beautiful and charming, yet also functional and practical. With our innovative designs and quality workmanship, we can bring your unique vision to life. Read below to understand what's associated with a bathroom remodel in Springfield.
The Process
Though bathrooms are often smaller than other rooms, there can be a lot involved. This is why we believe in transparent and clear lines of communication, excellent service, and building lasting relationships.
From the initial free consultation and itemized estimate of your Springfield bathroom remodel to small, final touch-ups, we want the process to be easy and stress-free for you. We will help ensure any materials and fixtures you want are available and if some items have a long lead time, we will work around the delivery date.
Because the initial demolition can be dusty, we lay down heavy-duty mats to protect your floors, seal the project to confine debris, and clean up every day. At the point of fixture installation, we pay great attention to detail as we complete a final punch list, ensuring all fixtures align perfectly, towel racks are at your desired height, tiles are cut to exact measurements—nothing is overlooked.
Contact Our Team Today
We want you to end up with a warm, clean and stylish bathroom that you love, and to be deeply satisfied with the process and our professionalism. We stand behind our work and warranty every bathroom renovation in Springfield. Call us for full warranty details. For more information, you can check out our additional services and portfolio. Building is our passion, so for your Springfield bathroom remodel, contact our team today and get started on the bathroom of your dreams.
We are the bathroom remodel company in Springfield, Missouri, to turn to when you want to renovate one or more of the baths in your home, but don't want to settle for anything less than the best service available. We'll work diligently to complete a completely customized bathroom remodel that meets your every need.
When you choose us for a bathroom remodel in Springfield, you're trusting consummate professionals capable of completing a wide range of renovations, such as:
Installing all-new solid wood cabinets
Refacing your bathroom cabinetry
Replacing a bathtub or shower
Installing a state-of-the-art walk-in bathtub or roll-in shower
Replacing your flooring with a tile, hardwood, or laminate one
Installing new light fixtures
Installing a new granite countertop and customized vanity
Replacing your sink, faucet, or showerhead with luxurious options from the most trusted names in the business, including Jacuzzi, Moen, and American Standard
Installing a new toilet
Updating the plumbing, ductwork, and electrical wiring in your bathroom
And more
To find out more about the different bathroom remodel services we proudly offer and can provide for you in Springfield, please contact us today. Additionally, we welcome you to visit our very own 40,000-square-foot showroom and manufacturing facility to meet with us in person and to see samples of our work.
EXPERTISE
For nearly 20 years we have been perfecting our craft of design and renovation. No other contractor comes close to our level of expertise, problem-solving, quality and service.
QUALITY GUARANTEE: 5-YEAR LABOR WARRANTY
We source the highest-quality materials, we provide unparalleled value and we offer a five-year warranty on all labor. In everything we do, we strive to satisfy our clients.
TOP DESIGN BRANDS
We work with the top home improvement brands of kitchen cabinets and countertops, bathroom fixtures and vanities… and more…including Caesarstone, Poggenpohl, Ultracraft, Showplace and Bauformat.
PROJECT MANAGEMENT
We take the stress out of renovating. From blueprint to final product, a dedicated project manager will you guide you through every step. Our clients are professionals whose time is valuable and who demand expertise, quality, higher standards and attention to detail.
DESIGNS
We are design experts / custom renovation consultants with nearly 20 years of experience and a highly lauded team of interior designers.
We know and have mastered the challenges of renovating in Springfield: all the do's and don'ts, the complex and necessary approval process.
RENOVATIONS
No project is too big for our Springfield-licensed contractors to handle with precise quality and care. We have an extremely diverse portfolio of kitchen, bath and full apartment renovations in the Springfield metro area.
RESIDENTIAL
Whether you're renovating a kitchen or a bath or a complete apartment, is your one-stop shop from design to installation, including the approval process – whether co-op or condo or subject to the Department of Buildings.
COMMERCIAL
Within unbeatable time frames, we deliver a higher level of products and services for our commercial customers.
Advantages Of Hiring Bath Remodeling Company
Getting professional help in during the planning stages is a sure way to guarantee the success of your bathroom remodeling. Pros have a way of simplifying what would otherwise seem complicated.
You lack experience with different heavy machinery which could result in serious injury or a huge risk. Things like the use of a wet circular-saw or toxic materials that if not handled properly could be harmful – can cause long term health problems or even disability.
Incomplete projects due to lack knowledge of the technical aspects of a job can cause lots of aggravation. Very often in the midst of installing a complex system in a kitchen such as an island exhaust unit or a dishwasher. You will get stuck because you are less experienced. Unless a professional is hired to finish the job, the kitchen can sit there in disarray for months.
Hidden costs can occur, which would have been unknown to the Do It Your more self. Someone who has not done a lot of remodeling jobs might not be able to anticipate the amount of material or supplies needed to complete the project. Hidden costs are almost inevitable with a DIY project because often the project needs to unfold as time goes on.
You can ruin the entire area of your home since you are not accurate. Therefore you need to be very careful. A single tiny measurement which is mistaken when cutting your new bathroom or kitchen counter, for instance, is capable of throwing the whole project off. This can result in wasting time and materials leading to any frustrations.
Here is why hiring a professional for your bathroom remodeling is a much better way to go:
Trained experts who specialize in remodeling have seen everything under the sun and know how to handle potential pitfalls before they happen. When the materials they are using are the best available and the techniques used to install them are up-to-date, you can't go wrong. Most DIY projects have gone wrong results in hiring professionals anyway, why not start your project with them?
The time and energy saved by using an expert for remodeling automatically your kitchen and bathroom will make it worth not doing the project yourself. Experts know exactly what they are doing; they have done the same types of projects over and over again and have lots of experience dealing with all sorts of situations during the project duration, giving them an edge over DIY enthusiasts.Expert skills would also be helpful in foreseeing potential problems which you will be able to avoid and save yourself a lot of trouble, and possibly money. It is also important to keep open lines of communication with your contractor. This will ensure that you are always on the same page, and it will definitely help you stay on budget.
Are you planning a bath remodel for your bathroom? Here is your perfect home remodeling partner. We are a team of professional home and kitchen remodeling contractors that will walk with you every step of the way and deliver the dream kitchen you want. Contact us today to schedule an appointment.
A few things to know before starting your project
Are you moving to a new home or just thinking about remodeling your special space? There are a lot of decisions that you need to think about whether its renovating a new home to make it your own or remodeling your home that needs some upgrades because of a new family member. We know that at times it seems like an impossible mission to find a good contractor in Springfield. We are here to help and shed some light on things that you are not familiar with. After picking the neighborhood and the amount of space you need their are a few things you need to know so you can make an educated decision and be a intelligent home-buyer. Most homes that you will find will need some work done. This is a great opportunity for you, becauseyou can negotiate the price for your living space and redesign it to your own needs.
Awarded Springfield Bathroom Remodeling
Bathroomremodelspringfieldmo.com provides the #1 Springfield bathroom remodeling services in Springfield, Missouri, at the most affordable prices available. Most bathroom remodeling contractors will charge you ten times the amount you should be paying and additionally bathroom & kitchen remodeling company online reviews might indicate that a contractor is ideal, while the real testimonials may say otherwise. Some remodeling contractors are also afraid of complex jobs. Bathroomremodelspringfieldmo.com thrives on contesting these popular clichès. We have 1000's of completed renovations and over ten years of experience under our belt which you can view for yourself as well as use for ideas. Some of these jobs may have been completed a decade ago, but the work we did will likely be lasting for decades more. That is the effect of having a professional company like ours handle the delicate material which will be used to create your ideal home. That's why our goal is to make sure your home looks the way that you first imagined it to be. This means that will will work continuously in order to achieve that. This also means that our General Contractor's are true professionals that architects all over Springfield are contacting for their own personal projects. That being said, we have one of the best track records in all five boroughs, and are able to make your home as beautiful as you want it to be while staying within your budget. Let's work together today and make your bathroom, kitchen, or home remodeling project a success!
Top 5 Things to do in Springfield, Missouri
Take A Tram Ride Through The Fantastic Caverns
Fantastic Caverns are the only caves in North America that give visitors a tour that is completely ride through. The trams that you sit in are pulled along by a Jeep and give spectators an amazing and interesting tour of the caves.
The path that you travel down was carved by an ancient river many years ago. The caves have had several uses throughout the years including a speakeasy during the prohibition and also as a venue for music events in the 1950s. Visitors to the caves can expect a constant 60 degrees throughout the year due to its location.
Meet The Animals At Dickerson Park Zoo
There are more than 500 different animals at this zoo and they represent approximately 160 different species.
During its early years the zoo struggled as it received no funding or support and by 1975 the zoo was in a state of disrepair and looking like it would shut completely.A support group was formed and the zoo was saved through the use of memberships and many donations.
Today the zoo is in good condition and is a real highlight of this city.
Visit The Home Of Missouri
Pythian Castle is a property that was built on Missouri in 1913. It was built by the Knights of Pythias and then the property was later transferred to the U.S. Military.
The building was built so that members of the Pythias fraternity could use the building as an orphanage or retirement home for its member's families. The building is a beautiful place to visit and it is listed on the U.S National Register of Historic Places.
The building is said to be haunted and tours of the castle are offered year round.
Watch A Show At Gillioz Theatre
In 1926 the Gillioz Theatre was built by M. E. Gillioz, his usual line of work was building bridges so the theatre was built mainly from steel and concrete.
The only wood that was used is in the handrails, doors and door frames. When the theatre was first built it would show many silent movies and it also had a stage that would host live shows.
Today the venue is predominantly used for music events and can fit approximately 1300 people in at a time. Elvis Presley is one of the theatres famous visitors, he spent an afternoon watching a movie before performing a show in the city.
Get Hands-On At The Discovery Center Of Springfield
The Discovery Center of Springfield is a museum that is all about getting the visitor involved. The museum was designed to have interactive exhibits that would inspire people of all ages to take part. The museum opened in 1988 but works were going on for many years prior to that to make sure that the museum was as perfect as it could be.
When you get to the museum you will spend many hours playing with the various exhibits as you learn how they work. You will while away the hours here without even realising that you are learning. A highly recommended fun day out for all.
Links
Here is a list of the Top 5 helpful Springfield, MO links that you may find useful:
For specific services check appropriate pages:
Address:
1447 S Enterprise Ave #5
Springfield, MO 65804
Phone Number:
(417) 217-7061